Overview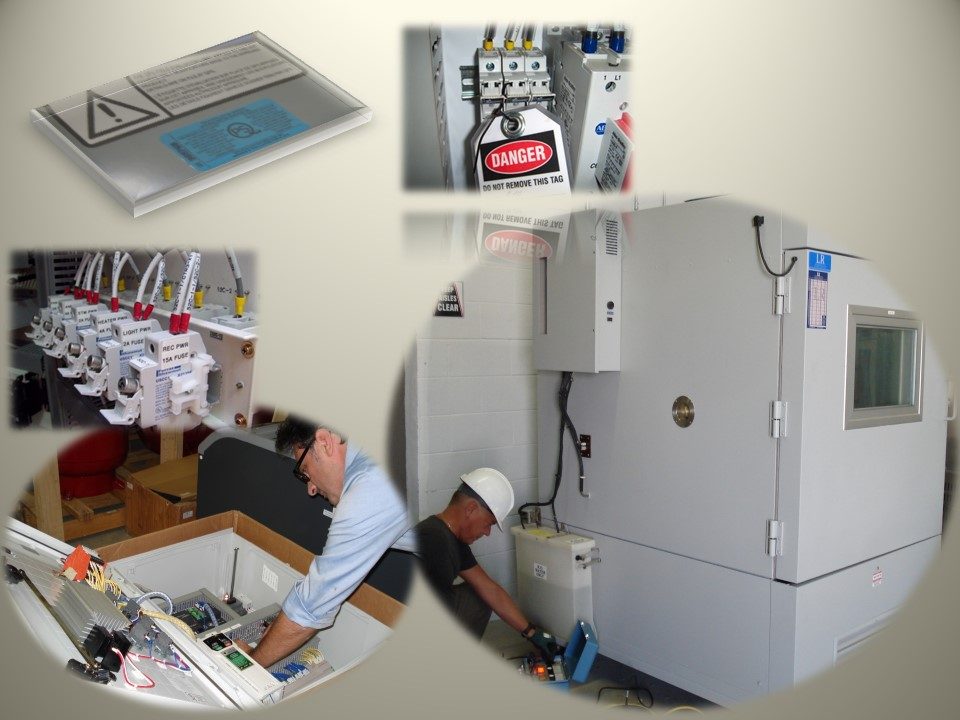 Safety regulations in North America make it mandatory for electrical/electronic products to be approved. Certification is the most common form of approval, however, in many situations, Field Evaluation may be the only practical form of approval.
Field Evaluation is a process whereby unapproved products can be evaluated on-site to requirements that are acceptable to the local AHJ. Depending on the rules of local jurisdiction, the inspection site can vary and may be the place of installation, manufacturing, distribution, storage, or any other place accepted by the local AHJ.
QPS is recognized in the industry as the leader in Field Evaluation. Valued and respected, QPS's reputation in this area goes back a long way, and is based on two factors: The majority of our inspectors have over a quarter century of experience in field evaluation and, unlike other providers of this service, all our inspectors specialize in, and are totally dedicated to field evaluation work.
We provide services locally through our service centers located throughout the USA and Canada, and globally through our own staff located abroad.
We are known to be pro-business and are very responsive; we will work with you to meet your deadlines. If needed, we will be on-site the next working day!
Field Evaluation for the USA
In the USA, testing laboratories recognized by the local Authority Having Jurisdiction (AHJ) are qualified to offer Field Evaluation services. In addition to being an NRTL, QPS is recognized in several states and local jurisdictions, and is also accredited by IAS (International Accreditation Service) specifically as a Field Evaluation Body (FEB).
The requirements used to evaluate products for the US market consist of the following:
NFPA 790 (Standard for Competency of Third-party Field Evaluation Bodies)
NFPA 791 (Recommended Practice and Procedures for Unlabeled Electrical Equipment Evaluation)
The applicable parts of the National Electrical Code (NEC) and other requirements specified by the AHJ.
Complying products are labeled using the QPS "QFU" label shown below: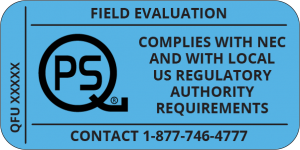 Field Evaluation for Canada
Canadian safety regulations stipulate that field evaluation must be conducted to the requirements of the Model Code SPE 1000 by an Inspection Body (IB)/Field Evaluation Body (FEB) accredited by the Standards Council of Canada (SCC) and recognized by the Regulatory Authority Having Jurisdiction (AHJ).
The SPE 1000 requirements were developed by a special technical committee established by the Canadian Advisory Council on Electrical Safety (CACES). It is worth noting that QPS chairs this committee and contributed substantial technical expertise in developing the requirements.
In addition to Field Evaluation of Medical Electrical Equipment, and Field Evaluation of Gas-Fired Appliances and Equipment, we offer two types of field evaluation services of electrical products as described below:
Field Evaluation of Complete Equipment:
The equipment is evaluated to the requirements of the Model Code SPE 1000, and the applicable sections of the Canadian Electrical Code, part 1. Complying products are labeled using the QPS "QE" series label shown below: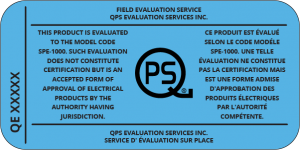 Field Evaluation of Control Panels:
Control panels are evaluated to the requirements of the Model Code SPE 1000, and the applicable sections of the Canadian Electrical Code, part 1. Complying products are labeled using the QPS "QFP" series label shown below: